Okay, I'll admit it, I didn't get rid of ALL the plastic crap. He doesn't have very much of it but the well-loved items that have been checked for safety will get to stay. And these two toys are very,very special.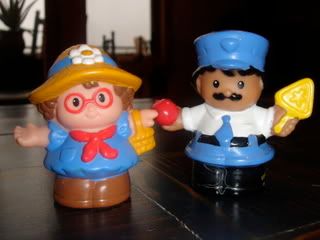 Huck calls them Jazz & Pop--his names for my parents. And I have to tell you, these 2 Fisher Price Little People look freakishly like my parents. So much so that it's kind of eerie.
I mean, okay, my Mom does not wear a straw garden hat and carry a little basket and my Dad is not a Latino Bus Driver, but the glasses, the moustache, the skin tones and hair, and well...just their attitude. I'm telling you, it's them.
And how many kids have little dolls of their grandparents to play with? So despite my moratorium on cheap plastic crap these guys get to stay.
Of course, I have my issues with them. I'm a little squeamish about having sex if they're in the room so I like to toss them in the barn with the cows and dinosaurs when Stephen and I are getting funky. And sometimes during the day I get the distinct impression they're watching and judging me. Let's face it, especially her. I keep picturing her looking up at me and saying in her little passive aggressive way, "Is that what you're wearing? You know that color makes your hair look brassy."

Hey there's an idea, maybe I'll be able to use her to get a few things off my chest? There's nothing weird about telling off a 2 inch plastic doll, right?